LogTag TRED30-7R Temperature Data Logger with 30 day summary display
LogTag TRED30-7R Temperature Data Logger with 30 day summary display - LogTag Recorders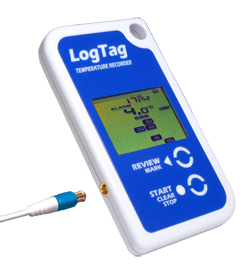 LogTag TRED30-7R Temperature Data Logger with 30 day summary display - LogTag Recorders
---
---
Product details
Product Summary
The LogTag TRED30-7R Temperature Recorder measures and stores up to 7770 temperature readings over -40°C to +99°C measurement range from a remote temperature probe.
Statistical temperature and duration readings for up to 30 days can be reviewed on the display.
The visual display of current temperature and previous alarms is an important feature in "static" applications such as cool rooms and refrigerators. The display arrangement is designed to show 'at a glance' if temperature violations have occurred during the current day and up to the previous 29 days. The display also shows the current temperature reading, the current time, recording status and battery status.
Details of any excursions can be checked directly by inspecting the statistics history on the recorder's display or in more detail by downloading the logged data via a standard LogTag Interface cradle to LogTag Analyzer.
If a reading outside the pre-set "Alarm" limits is recorded at any time, a "day alarm indicator" appears on the display.
Product Highlights 
Data loggingRecords time and temperature data for later download
State Indicators Display shows current state (READY,STARTING,RECORDING, PAUSED or STOPPED)
ALARM indicator Appears on the display to show an alarm trigger has occurred.
Day alarm summary Displays in calendar-like format alarm triggers for up to the last 30days
Current time & temperature Shows the current time and temperature when not in review mode
Review button Allows review of current day and up to 29 previous days of statistical data and also adds an 'inspection mark' into the recordings log during recording.
Start/Clear/Stop button Push button recording start, alarm clear and recording stop
(all configurable options)
Flexible start options Push button recording start with optional delayed start (up to 18 hours) or specific time & date start 
Flexible recording options Either record for a fixed time or record continuously with 'wrap around logging'
Rapid Download! Takes only seconds to download recordings.
Thin flat case Fits easily into packaging and thin enough to be easily mailed "letter rate"
Real time clock Records time & temperature simultaneously
7770 recordings capacity Enough memory for 53 days @ 10min logging or 80 days @ 15min log
High Quality Connector Gold plated remote sensor connector
Interchangeable Probes LogTag remote temperature ST100 probes are interchangeable.
Technical Specification

Part Order Code
TRED30-7R : (replaceable battery CR2032)
Measurement Temperature range with ST100 remote temperature probe
-40°C ~ +99°C
Recorder operating temperature range 
-30°C ~ +60°C
Rated Temperature reading accuracy
Better than ±0.5°C for -20°C~+40°C - typically ±3°C
Better than ±0.8°C for -40°C~+20°C - typically ±5°C
Better than ±0.8°C for +40°C~+70°C - typically ±0.7°C
Better than ±1.2°C for +70°C~+99°C - typically ±1°C
Rated temperature resolution on LCD
0.1°C for measurements -40°C ~ +50°C
0.2°C(0.4°F) for measurements +50°C ~ +70°C
0.3°C(0.5°F) for measurements +70°C ~ +80°C
0.4°C-0.6°C for measurements +80°C~ +99°C
Recording capacity
Data logging memory : 7770 logs - eg 53 days @ 10min logging, 80 days @ 15min logging
Day summary statistics memory (for display on LCD): up for 30 days of Max/Min and duration values
Sampling Interval
configurable from 30seconds to hourly
Logging Modes
Supports 'continuous' wrap around or specific recording period
Real time clock accuracy
Quartz crystal locked real time clock.
Rated accuracy ±25ppm @ 25°C (equiv to 2.5 seconds/day)
Rated temperature coefficient is -0.034±0.006ppm/°C (i.e typically +/- 0.00294seconds/day/°C)
Download time
typically less than 5 seconds for full memory
Power Source
3V Lithium-Manganese Dioxide extended temperature chemistry
Battery Life
TRED30-7R: typically 1 year of operation
Size
93.0mm(H)x54.5mm(W)x8.6mm(T)
Weight
TRED30-7R: 41grams
Case Material
Polycarbonate
EMC Compliance
Complies with EC EMC directives (EN 61000-6-3:2006 & EN 61000-6-1:2005)
Complies with FCC Part 15 Subparts A and B.
Environmental
IP65 (when vertically mounted or hung)
FDA 21CFR Part 11 Compliance
Designed to comply with FDA 21CFR Part 11 (Digital signatures)
Reader interface 
Standard LogTag Interface cradle
Remote Temperature probes
Standard LogTag ST100 temperature probes (Standard lengths 1.5m or 3m)


Manufactured to meet the European RoHS Directive

Product Downloads & Brochures

For product information please click the below links:




To download the LogTag Analyzer Free Software please click here